United States (US)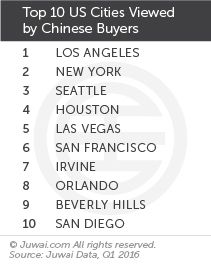 Chinese are charting an all-time high in terms of property investments in the US – CNBC reported the Asia Society and Rosen Consulting Group's latest study charting and forecasting Chinese investment in the US revealed Chinese investors spent $8.5 billion on commercial property in 2015 alone.
Combined with the $28.6 billion in US residential property as reported by the National Association of Realtors (NAR), that makes a combined $37.1 billion spent by Chinese investors on US residential and commercial real estate in 2015.1
The study also predicts that by 2025, Chinese residential investments could potentially hit $50 billion, while Chinese commercial purchase could peak at $20 billion.1
This suggests that Chinese overseas property investment is largely unaffected by the economic slowdown back home.
Where are Chinese buying in the US, though? Unsurprisingly, Los Angeles and New York City (NYC) both retained their ranks as the #1 and #2 most-viewed US cities. New US cities appearing in the top ten in Q1 2016 include Las Vegas (#5), Beverly Hills (#9), and San Diego (#10).