China is the world's largest outbound tourist market1, yet only 4% of China's population hold a passport.
What's more, this 4% alone lavishes nearly $200 billion each year abroad – more than any other country in the world.2
And now, Goldman Sachs predicts 12% of China's population will be passport bearers in ten years time2– imagine the colossal impact worldwide when that happens.
Chinese embark on explosive shopping spree abroad
Interestingly to note, beyond their quest for experiential holidays, Chinese travellers are also significantly influenced by their shopping aspirations and preferences.
53.6% of outbound Chinese jetsetters cited shopping as their main reason for travel, lavishing 55.8% of their overall budget on shopping abroad.3
This is because foreign consumables purchased overseas are wildly popular with Chinese due to the common mind-set that they are guaranteed to be authentic, and offer greater quality at lesser prices.3
For instance, Chinese tourists in France are enamoured over French luxury and cosmetics brands4, while those visiting other parts of Europe have shown a marked penchant for buying luxury watches, Zwilling JA Henckels cookware, and Lamy pens.5
Similarly, products featuring a "Made in USA" label are heavily favoured with Chinese6 – those travelling to the US tend to flock towards American luxury brands, skincare and cosmetics such as Benefit, Kiehls, and Clinique, and health supplements from GNC and Puritan's Pride.5, 6
Over 81% of Chinese ultra-HNWIs address their health needs through diet and exercise, and 48% maintain health by regularly consuming health products.7
In Japan, where Chinese tourists once made headlines for snapping up Japanese electronic-heated toilet seats, medication is the latest hot item for Chinese visitors to buy.8
A study by the Japan National Tourist Agency revealed that 63% of Chinese visitors bought cosmetics and perfume, 55% bought food, spirits, and cigarettes, while 52% bought over-the-counter (OTC) medicines and toiletries last year.8 In fact, Chinese tourism expenditure in Japan soared by more than 200% last year.9
All this boils down to one thing: Chinese want better quality at lower prices, and they are finding it overseas.
Holiday hunting for overseas real estate
Unsurprisingly, this want extends to property too, whereby more and more Fly n' Buy Chinese are snapping up homes while holidaying abroad, as residential property overseas offer much more value for money.
36% of China's HNWIs have already invested in property abroad, and 41% of them intend to invest in overseas real estate within the next three years – 66% who plan to invest in residential properties.10
More importantly, where are China's wealthy looking to invest in?
According to Juwai Data, the top 10 countries most enquired by Chinese buyers on Juwai.com are the US, Australia, Canada, New Zealand, the UK, Thailand, Spain, Germany, Japan, and France.11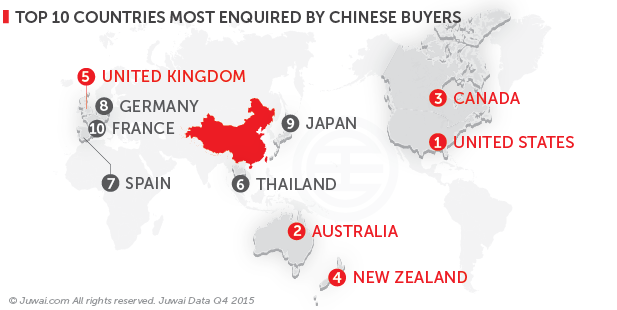 Interestingly enough, six out of these 10 countries were featured on our last article about the top 10 holiday destinations for rich Chinese in 2016.
This corroborates with Juwai research, which notes the Chinese trend of investing in homes in travel destinations they have fallen in love with.
Banking on Chinese tourism wave
Developers, companies, and corporate investors as well have deduced that the value of Chinese holidaymakers is too lucrative to ignore.
From hotel to transportation to retailers, even Chinese developers and corporate investors are jumping on the bandwagon too. Where Chinese globetrotters are flocking to for holidays, that's where they're seeking to invest in hopes of tapping into the demand born from the massive surge of Chinese tourists.
Chinese tourists have been touted the fastest-growing tourism market in the world.1
A prime example is Japan, where Shanghai-based Yuyuan Tourist Mart has just forked out 18.3 billion yuan to acquire part of a major ski resort in Hokkaido.9 The Greenland Group also recently partnered up with Laox – the largest duty-free chain in Japan – to purchase a commercial complex in Chiba for US$60 million.9
In short, China's outbound travelling boom is helping drive its offshore property investment as well – both residential and commercial.
One thing's for certain, as what Forbes hails as the "largest international tourism source market in terms of trips and spending"12, China's outbound travellers will transform global tourism and real estate worldwide.
3 tips to appeal more to Chinese buyers
As Chinese outbound travellers grow in numbers, what can you, as a broker and real estate agent, do to tap into this opportunity that Chinese travellers provide? Here are three swift tips:
Build brand awareness online: 80% of Chinese luxury consumers gain information on luxury brands online, of which 60% named WeChat and Weibo as their primary source of information.13With property falling under the luxury purchase category, this means if you want Chinese buyers, first you must appear behind China's Great Firewall to be seen online in front of them – and in the right channels.
Shape to suit the market: This means adapting and localising your products, such as translating your website and listings into Mandarin. The Home Medicine Association of Japan has gotten it right – with Japan's pharmacies becoming a must-see attraction for Chinese tourists, they've launched a Chinese-language website offering information on 80 products from 26 membership companies to cash in on the Chinese wave.8
Understand Chinese mindset: Winning the hearts of well-heeled Chinese buyers require a better understanding of their needs beyond the basics. Gain in-depth insight into Chinese buying behaviour and preferences with Juwai IQ data service, which helps you customise the right product to match what they want in terms of location, intent, motivation, and budget.
Sources: 1. China's National Tourism Administration; 2. Goldman Sachs on Bloomberg; 3. World Travel and Tourism Council; 4. China Luxury Advisors; 5. Xinhua News Agency;  6. Fortune; 7. Hurun Report "China Ultra High Net Worth Report 2014-2015"; 8. SCMP; 9. SCMP; 10. Hurun Report "2015 Annual Chinese HNWIs Asset Allocation White Paper"; 11. Juwai Data, Q4 2015; 12. Forbes; 13. Bain & Company's "2015 China Luxury Market Study"