Europe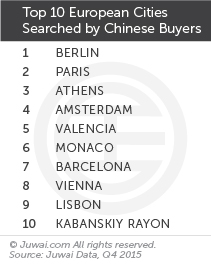 Elsewhere in Europe, notwithstanding the UK, Chinese buyers have increasingly shown interest in newer emerging markets – even in far-flung reaches of Europe, such as Russia.
With the Chinese yuan staying strong against the Euro, we foresee Chinese investor interest to remain strong in Europe. Here are the 10 cities receiving much Chinese love lately.
Berlin (Germany) held steady at the top, while Paris (France) and Athens (Greece) both rose by one spot in rankings to claim the second and third spots.
Big jumpers were Amsterdam (the Netherlands) and Valencia (Spain), who both leapt three spots to be fourth and fifth on the list. Meanwhile, Barcelona (Spain) dropped two places to take the seventh spot, while Monaco rose slightly to take the sixth spot.
Interestingly, former second-placed Pasphos (Cyprus) completely slid off the list, as well as former #6 Makarska (Croatia) and former #10 Ayia Napa (Cyprus). These cities were replaced by newcomers Vienna (Austria), Lisbon (Portugal), and Kabanskiy Rayon (Russia).
source: Juwai